Statement released on positive alternatives to abortion
In the past six years, there has been a government Working Group on abortion, two sets of Oireachtas hearings, legislation in 2013, five Private Members' bills in the Dáil, a Citizens' Assembly in 2017 and another round of Oireachtas Committee hearings also in 2017 – all without exception focussed on abortion and broadening the grounds for it. Not one of these committees, assemblies or Private Members' bills focussed on alternatives to abortion.
And now we are faced with a referendum on 25th May that if passed would strip unborn babies of all legal protection and their right to life. How can we possibly call this progressive? The referendum is about one thing and one thing only – introducing abortion on demand.
Government ministers pushing for repeal are fully aware that not a single government sponsored debate has taken place in the past six years focused on positive alternatives to abortion despite the fact that we and others pleaded with the Government to create space for such a debate. All the focus has been on abortion, abortion, abortion. This is a scandal. Instead of voting away the right to life and repealing the Eighth Amendment, we should, as a society, be focussing on initiatives that bring us together rather than divide us.
In 2017, there were close to 30 homeless pregnant women living rough on the streets of our cities during 2017. This human suffering could be alleviated and suitable sheltered accommodation found, if the political focus were on alternatives to abortion rather than on obliterating all legal protection from unborn babies. For example, instead of bringing in abortion, we should be working together to make Ireland a pioneering centre of excellence for perinatal palliative care facilities to help families of babies with a life-limiting condition. This would unite rather than divide society. In 2016, only five infants were presented for adoption in Ireland. Hundreds of Irish couples are on waiting lists having been declared suitable to adopt a child.
And as a country, we should be leading the way in conducting research with organisations like the Lejeune Foundation to enhance the lives of children with Down syndrome and improve their quality of life and outcomes. These are just some of the areas we could be focussing our energies on as a society, rather than following other countries down the road of abortion.
Campaigning for wide-ranging abortion and in the same breath talking about reducing Ireland's abortion rate makes no sense. Taking away the right to life is a very strange way to protect life. Yet that's precisely what some of our leaders in government are proposing. As well as stopping abortion on demand, a 'No Vote' on 25th May will send an extremely powerful message to our political leaders that we want to see the political focus shift away from just talking about abortion to working together to find positive alternatives to abortion.
"I applaud Hugh's House and The Perfect Gift, to name just two voluntary initiatives that go the extra mile to create a more welcoming society for expectant families and their unborn babies," said Sinead Slattery. Founder of Hugh's House, Ade Stack, told her personal story, that can be summed up in these words: "Don't make his life shorter, make his life greater."
It is hard to believe there is a referendum on 25th May to give us the option of following other countries down the road of abortion on demand given what is known about how barbaric and destructive legalised is. We cannot use the excuse we didn't know. The reality of what legalised abortion leads to is there for everyone to see.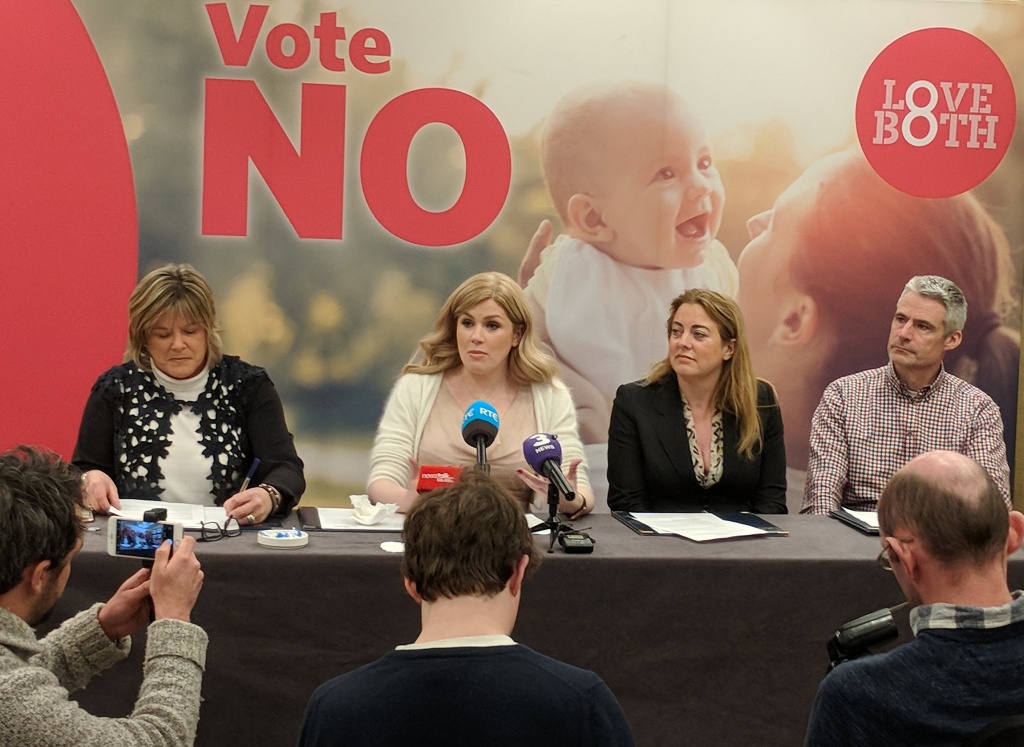 The LoveBoth Campaign believes we can offer women and their children a much better future than the stark choice of abortion or an unsupported pregnancy.
Minister Simon Harris has challenged the pro-life movement on how we can justify the status quo and keeping the Eighth Amendment. In return, we challenge Minister Harris to a debate on his proposal and the issue in general, including alternatives to abortion.  Minister Harris wants to remove the right to life from the Constitution.  So our challenge to Minister Harris is: Come out and debate your abortion proposal with a LoveBoth spokesperson. There is nothing radical or progressive about taking away the right to life.
Let's do something truly radical and life-affirming – Let's 'Vote No' on 25th May. And let's build on the incredible grassroots initiatives that are already assisting women and families experiencing challenging and unexpected pregnancies. There is hope in such a future. There is no hope in abortion.
ENDS